BLENDED LEARNING IN THE EDUCATIONAL PROCESS OF THE UNIVERSITY STAGE DURING THE CORONA PANDEMIC
Abstract
Face Higher education institutions today have several demands imposed on them by successive scientific and technological developments. Despite the limited capabilities and resources available to them, they must face the increasing demand for higher education and raise the level of its efficiency, effectiveness and quality. To be in line with the requirements of the times, meet the needs of the labor market, and activate development plans, through the development of human cadres. Blended learning came as a result of the Corona pandemic, which invaded the world in early 2019/2020. Although blended learning is a type of learning practiced in many educational settings; this motivates the teacher to combine different resources and activities in the learning environments that the student can interact with, and build his ideas through them. It is a training and learning program that mixes face-to-face and distance learning according to the educational situation. Where technology is used in the process of integrating objectives, content, resources, learning activities, and information delivery strategies; to create a positive interaction between the teacher and the needs of the student.
Keywords: Blended learning, educational process, corona pandemic.
REFERENCES
Al-Momani, M.O., & Rababa, E.M (2022). Mixed Education and Quality Standard in the University Teaching: A Theoretical Study. Indonesian Journal of Educational Research and Technology.2(3), 155-174.https://doi.org/10.17509/ijert.v2i3.43655
Rao, G.V., & Vijayalakshmi, D. (2022). Preference for Mode of Learning for Knowledge and Skills by Professional Management Students during the COVID-19 Pandemic Period. Management and Labor Studies, 47(1), 22–39.https://doi.org/10.1177/0258042X211020604
Ashour, S., El-Refae, GA, & Zaitoun, EA (2021). Post-pandemic Higher Education: Perspectives from University Leaders and Educational Experts in the United Arab Emirates. Higher Education for the Future, 8(2), 219–238.https://doi.org/10.1177/23476311211007261
Ashri, D., & Sahoo, BP (2021). Open Book Examination and Higher Education During COVID-19: Case of University of Delhi. Journal of Educational Technology Systems, 50(1), 73–86.https://doi.org/10.1177/0047239521013783
Bansal, M. (2022). Multidimensional Impact of COVID-19 on the Indian Education Sector. Management and Labor Studies.https://doi.org/10.1177/0258042X211069509
Gupta, U., & Nayar, KR (2021). COVID-19 Pandemic and Popular Discourses in Jharkhand: A Qualitative Study. Journal of the Anthropological Survey of India, 70(2), 214–223.https://doi.org/10.1177/2277436X211028957
Whelan, J. (2021). Tales of precarity: A reflexive essay on experiencing the COVID pandemic as a social work educator on a precarious contract. Qualitative Social Work, 20(1–2), 579–586.https://doi.org/10.1177/1473325020973311
Noor, S., & Shaoun, SP (2021). Online Education and Community Participation in Bangladesh: Challenges and Opportunities to Ensure Inclusive Learning During COVID-19 School Closure. Indian Journal of Public Administration, 67(4), 620–638.https://doi.org/10.1177/00195561211044531
Kuiper, G. (2021). Emotional risk assessments in the field: Leaving Tanzania during the COVID-19 pandemic. Ethnography.https://doi.org/10.1177/14661381211002856
Islam, MK, Sarker, MFH, & Islam, MS (2022). Promoting student-centred blended learning in higher education: A model. E-Learning and Digital Media, 19(1), 36–54.https://doi.org/10.1177/20427530211027721
Ngoasong, MZ (2021). Curriculum Adaptation for Blended Learning in Resource-Scarce Contexts. Journal of Management Education.https://doi.org/10.1177/10525629211047168
Ashraf, MA, Tsegay, SM, & Meijia, Y. (2021). Blended Learning for Diverse Classrooms: Qualitative Experimental Study With In-Service Teachers. SAGE Open.https://doi.org/10.1177/21582440211030623
Fleischmann, K. (2021). Hands-on versus virtual: Reshaping the classroom design with blended learning. Arts and Humanities in Higher Education, 20(1), 87–112.https://doi.org/10.1177/14740222220906393
Kundu, A., Bej, T., & Nath Dey, K. (2021). Time to Achieve: Implementing Blended Learning Routines in an Indian Elementary Classroom. Journal of Educational Technology Systems, 49(4), 405–431.https://doi.org/10.1177/0047239520984406
Fisher, R., Perényi, Á., & Birdthistle, N. (2021). The positive relationship between flipped and blended learning and student engagement, performance and satisfaction. Active Learning in Higher Education, 22(2), 97–113.https://doi.org/10.1177/1469787418801702
Cabauatan, RR, Uy, C., Manalo, RA, & Castro, B. de. (2021). Factors Affecting Intention to Use Blended Learning Approach in the Tertiary Level: A Quantitative Approach. Higher Education for the Future, 8(2), 239–255.https://doi.org/10.1177/23476311211011934
Perera, CJ, Zainuddin, Z., Piaw, CY, Cheah, KSL, & Asirvatham, D. (2020). The Pedagogical Frontiers of Urban Higher Education: Blended Learning and Co-Lecturing. Education and Urban Society, 52(9), 1305–1329.https://doi.org/10.1177/0013124519894966
Saboowala, R., & Manghirmalani Mishra, P. (2021). Readiness of In-service Teachers Toward a Blended Learning Approach as a Learning Pedagogy in the Post-COVID-19 Era. Journal of Educational Technology Systems, 50(1), 9–23.https://doi.org/10.1177/00472395211015232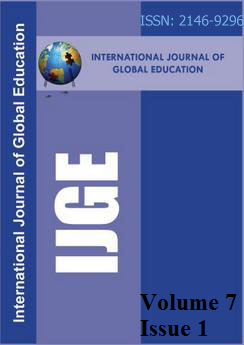 Downloads
License
Copyright (c) 2022 International Journal of Global Education (IJGE) ISSN: 2146-9296
This work is licensed under a Creative Commons Attribution 4.0 International License.